4 December 2022
2ND INTERNATIONAL SYMPOSIUM ON TEACHING & LEARNING INNOVATION 2022 (ISTLI 2022)
e-Proceeding
CONTACT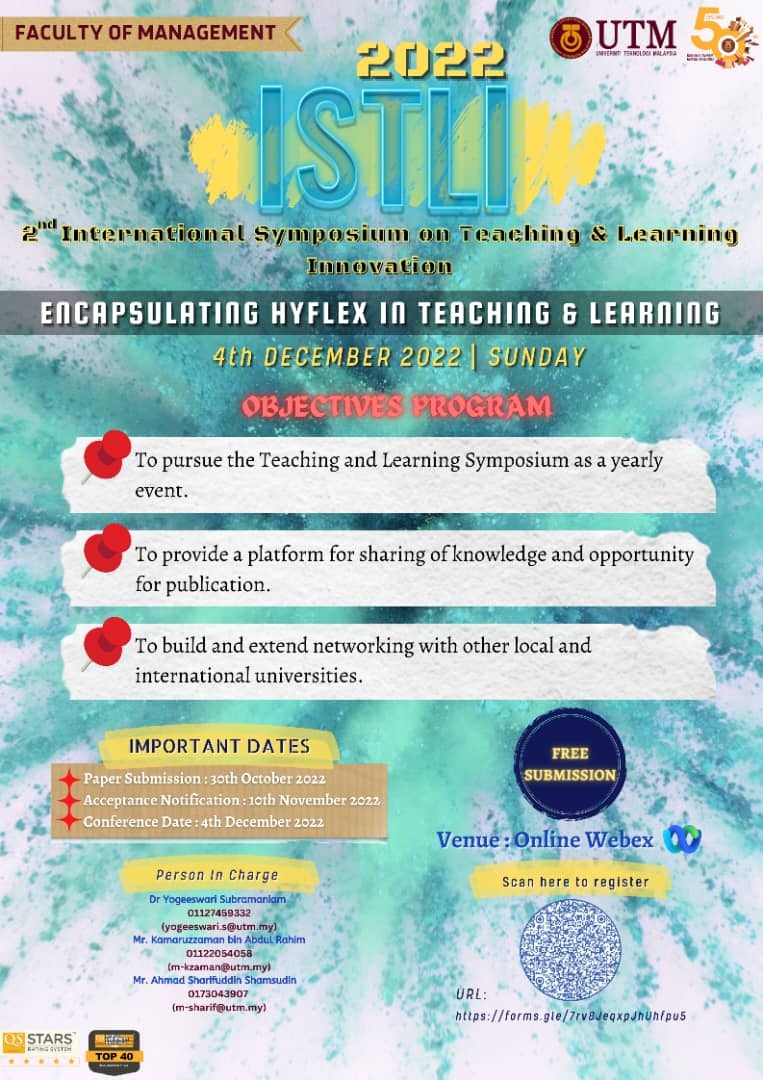 Submission of Paper Deadline: 30th October 2022


      (EXTENDED UNTIL 15th NOVEMBER 2022)

Submission Link:

https://forms.gle/7rv8JeqxpJhUhfpu5

Acceptance Notification: 10th November 2022
      (24th NOVEMBER 2022)
Conference Date: 4th

 December 2022
Best Regards!
Secretariat ISTLI 2022
Faculty of Management
Universiti Teknologi Malaysia (UTM)
ENCAPSULATING HYFLEX IN TEACHING & LEARNING
The Faculty of Management, Universiti Teknologi Malaysia would like to extend our warmth welcome and further to invite you to participate in our '2nd International Symposium on Teaching & Learning Innovation 2022 (ISTLI 2022)'.

The Programme objectives are:
To pursue the Teaching and Learning Symposium as a yearly event

To provide a platform for sharing of knowledge and opportunity for publication


To build and extend networking with other local and international universities
The conference will be held online on 4th December 2022. Your participation in ISTLI 2022 will be surely be a memorable and inspirational.
ISTLI 2022
"PAPER THEMES"
The themes include,
Issues in education
Teaching & learning challenges during online/hybrid
Innovation in teaching & learning
Assessment in teaching
Engaging students
Adapting technology in online/hybrid teaching & learning
Tools for online/hybrid teaching & learning
CONTACT US
For any queries regarding abstract submission (registration information, abstract format, online submission, presentation format, author guidelines and ethical considerations), please do not hesitate to directly contact any of the symposium secretariats: