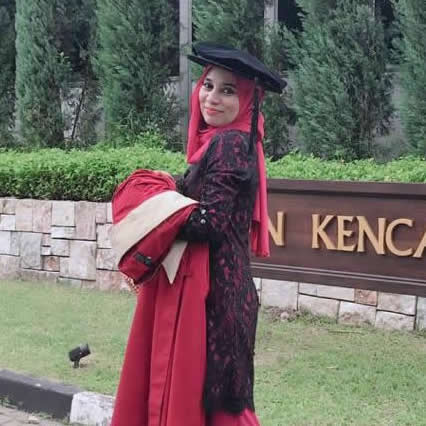 Contact:
Email: sabrinah@utm.my
Sabrinah Adam
Dr. Sabrinah Adam received her Ph.D. in Management from Universiti Teknologi Malaysia (UTM) in 2018 and graduated on time (GOT). She received the Best Postgraduate Student Award at the 61st UTM Convocation (2018). She has over 5 years of industry experience. She began her academic career in 2015 at the Management and Science University (MSU) Shah Alam. Dr. Sabrinah Adam has been a Senior Lecturer at Faculty of Management (FM), UTM since 2019. She was appointed as a Head of Entrepreneurship Panel in the Marketing and Entrepreneurship Department. Dr. Sabrinah Adam was appointed as a Chairperson for FM Student Development and Assistant Research Group Leader for the Innovation and Entrepreneurship Research Group (IERG). She is actively involved in mentoring undergraduate students in Entrepreneurship and Business Case Competitions, especially at the national level.
She is also a certified HRDF Trainer and a certified Digital Entrepreneurship Trainer with Merit. She was appointed as Young Scientists Network by Academy Science Malaysia (YSN-ASM) for her active contributions. Her main research interests are entrepreneurship, digital entrepreneurship, entrepreneurial orientation, online business,  organizational performance, knowledge management, business, management and talent development.
More info about Sabrinah Adam
Back to all list of lecturers
Research Interest
E-business, Entrepreneurial Orientation, Knowledge Management
Number of current supervisees
Availability of Supervision
Yes